3 Bakery Supplies Catered to Food Storage Needs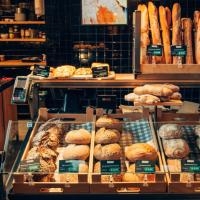 Bakery supply refers to the various tools and equipment needed to operate a bakery. This can include everything from ovens and baking pans to cake decorating supplies and ingredients. Having the right bakery supply on hand is essential for any baker, whether they are a professional or an amateur.
Among all necessary baking equipment, a storage device is one of the top needs of a baker. D and V Plastics Inc. is a provider of quality
bakery supplies in Ontario
. In this blog, we highlight different baking supplies that are intended to store food.
Bakery Supplies Needed For Storing Food
Refrigerators:
A baker's kitchen is loaded with many perishable and non-perishable foodstuff. Ingredients like egg, milk, yogurt, fruits, vegetables, and meat must be refrigerated or frozen to ensure long life. The size and type of the refrigerator might vary as per the requirement. Bakers who use a lot of meat and meat products will have to go for a freezer.
Storage Bins:
Storage bins are ideal to store your stuff safely and away from moisture. Ingredients like flour and grains demand the use of storage bins as water or moisture could render them useless. Storage bins are also handy for storing items post-preparation. Bread, cakes, muffins, cookies etc., can be stored and refrigerated for a long period.
Baking Racks & Trays:
Of all the baking supplies, bakery racks and trays are arguably the most-used equipment. Racks and trays serve multiple purposes from washing, cooling, drying and storage. Baking racks or trays are mostly made of high-grade plastic that is durable and heat resistant. These properties make
baking racks
and tray an ideal option to store your food items or ingredients.
Contact D & V, a trusted Bakery supplies brand in Ontario, for industry-grade equipment. We also provide customized service on request.