3 Baking Tips to Use with Your New Bakery Trays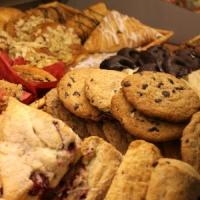 If you haven't noticed, baking trends are always evolving. This year, the top baking trends are simple but are bursting with creativity and flavour. These trends manifest themselves as tips on how to improve your bakery. Bakery trays are an essential part of every baker's toolkit. They are crucial in creating beautiful and mouthwatering desserts. Using the right baking tools and trending tips, you have a recipe for success.
By using our high-quality and durable bakery trays, you can make your bakery rise!
If you own or run a bakery, these three trending tips can help improve your business:
- Brand New Cookies and Biscuits: Cookies are a classic bakery item, but consider spicing them up by using alternative flavours and techniques. A current trend is the baking world is the resurgence of the classic chocolate chip cookie, but with far more complex flavours and less sweetness. You can enhance the buttery and sweet goodness of a chocolate chip cookie with the addition of bacon. A sweet and salty mixture of the bacon and chocolate is sure to set your bakery apart. Other baking techniques include having crispy edges with a soft and chewy center. Use our durable and reliable bakery trays to get desired results!
- Edible Masterpiece: It takes a lot of talent and practice to create a unique and eye-catching cake design. There is a trend that is growing within the baking industry is to create larger than life cakes and desserts. Cakes are quickly becoming edible pieces of art. Intricate details may take significant time to create, however they are important when creating beautiful cakes. It requires imagination to create elaborate icing designs like hand piped flowers or lace on cakes.
- Berries on Cakes: Fondant is the most popular icing for cake decorating, however it is quickly being replaced by fresh fruit. By using fresh fruit, you do not need to worry about perfect symmetry to decorate your cake. Berries give off the illusion of jewels and adds a layer of elegance to your desserts. Fill your bakery trays with delectable fruit and give your customers a taste of something different and unique.
At D&V Plastics, we are the leaders in bakery supplies in Canada. Our bakery trays are durable, reliable, and can help improve your business. Call or email us today to learn more about the products and services we offer!