3 Ways To Use Bakery Trays To Improve Your Brand Name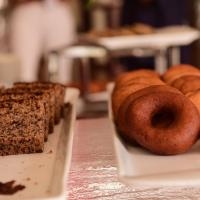 The bakery business is quite a challenging one. A baker has to ensure every parameter is met with top standards to upkeep the brand name. There are many ways to improve one's brand name, but there are also many risks involved in sustaining such an image. The taste of the food items, their freshness, presentation, etc. needs to meet quality standards without fail. One negative impression is enough to bring down the reputation and as a result, lose clients. In this blog post, we bring simple tips for you to maintain your goodwill by properly using bakery trays.
How to utilize bakery trays to maximize your brand's reputation
Food display:
Even though taste and freshness play a massive role in customer satisfaction, it is the presentation that attracts more footfall into a bakery. A baker's skill can be adjudged by the way the food items are presented and kept on display. Many experienced bakery owners rely on bakery trays to display and present their items to passers-by. These trays serve several purposes other than being utilized for baking.
To bake heat-sensitive items:
Bakers often face issues like burning or sticking of food items like cookies, pizza, cupcakes etc. Using bakery trays to bake these items ensures proper consistency and ease of operation. These trays are made of high-density plastics that are heat-resistance. This feature helps bakers as it avoids food items getting stuck to the base or turning black due to overheating.
Create brand identity:
Bakery trays can be customized as per the requirement. You can choose a unique colour, and shape and even get your brand name printed on it. This will help your bakery business stand out.
Following the aforementioned tips will help your bakery business grow and create a loyal customer base. At D and V Plastics, Inc., we manufacture top-grade bakery trays and
baking racks
. Speak to us today to learn more.