4 Defining Traits Of A Quality Bakery Tray Manufacturer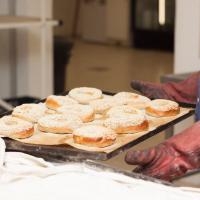 When one thinks of a bakery, delicious cakes, pastries, and fresh bread come to mind. However, most don't think about what goes on behind the scenes to run this business. If you own a bakery or are looking to start one, it is vital to have good knowledge about the different equipment that you will need, including bakery trays. If you are looking for high-quality bakery trays, then we recommend choosing manufacturers who focus on customer satisfaction.
To help you out, here are 4 qualities of a grade A bakery tray manufacturer
Good Material Selection
Bakery trays might look like simple equipment, but a lot goes on behind their making. One of the primary processes involves selecting the right material. Plastic trays are often considered a better alternative to metal trays, for they are lighter and cost-effective. Hence, always look for manufacturers who can provide high-standard plastic bakery trays.
State-Of-The-Art Manufacturing Equipment
Other than the material used, how a product is manufactured also defines its quality. Using state-of-the-art equipment will provide the best possible outcome. Always go for manufacturers who believe in innovation and using high-tech machinery.
Durability
Any good product will last for a long time without much wear and tear. This holds especially true for high-quality bakery trays, as selecting good trays can make or break the business. To ensure your trays are durable, tough and last a long time, choose a manufacturer who can demonstrate this claim and has the experience to back it up.
Commitment to Satisfy The Customer
Dependable businesses focus on providing their clients with the best possible service. Keeping this in mind, a great way to pick out a tray manufacturer is to see how willing they are to help you customize. Reliable plastic tray makers such as D & V Plastics strive to make sure your equipment stands out by colouring them to your preference and even embossing your bakery's name on the trays.
You can always count on D&V Plastics for all your plastic manufacturing needs. We have been providing the best bakery supplies in Toronto and its surrounding areas for more than 20 years. Contact us today to find out about our versatile range of products.