4 Easy Tips To Make Fluffy Cupcakes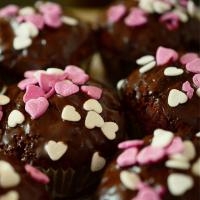 Who doesn't love cupcakes? These mini versions of cakes are preferred by many during tea time, post-lunch as a dessert or simply to satiate sweet cravings. From cupcakes with icings and frosted ones to oreo and sponge variants, there are many types of cupcakes available. However, baking fluffy, soft and delicious cupcakes aren't everyone's cup of tea. D and V Plastic Inc., a leading bakery supply brand in Canada, highlights a few simple tips to bake fluffy cupcakes via this blog.
How to bake fluffy cupcakes?
Use ingredients at room temperature:
Using all the ingredients at room temperature will help your cupcakes bloom. Make sure all the ingredients are at a uniform temperature before going into the batter. This will guarantee a smooth mixing process and cause the batter to rise. Ingredients like eggs, butter, yogurt etc. must be taken out of the refrigerator and kept at room temperature for at least 15-20 minutes before being added to the batter.

Be gentle while mixing the batter:
Being gentle while beating or mixing your batter will help you add more softness to the cupcakes. Overmixing or beating the batter too hard will destroy the air bubbles responsible for adding the fluff effect.
Be careful while filling the cupcake pans:
Baking tasty and soft cupcakes are much more than pouring and baking. You need to be careful with the entire process. Over or underfilling the liners could damage the shape and texture of your mini cakes. Make sure you fill only 3/4th of the liners to get perfectly domed cupcakes.
Let your cupcakes rest:
Giving your cupcakes adequate rest after taking them out from the oven will make sure they bloom and become completely fluffy.
D and V Plastics Inc. is a leading brand when it comes to bakery supplies in Canada. Contact us to source high-quality baking equipment like
plastic baking trays
and many more. You can also follow our blogs for similar tips and tricks for easy baking.