4 Must Know Hacks For Easy Baking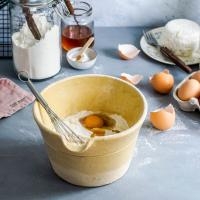 Baking is a science and bakers know it the best. Even though the process of baking sounds simple, in reality, it is not! A lot of care, preparation and execution go ahead of a hassle-free baking process. It involves having the right equipment like a whisk and bakery trays, fine ingredients and proper baking methods. We introduce you to a few baking hacks to ensure you have a seamless baking experience.
4 Must-Know Hacks For Easy Baking
Use olive oil to pour sticky ingredients:
Sticky ingredients like honey, maple syrup, molasses or corn syrup are often tough to scoop out of measuring cups or spoons. You can coat the cup or spoon lightly with olive oil for easy pouring. Olive oil will prevent sticky ingredients from being stuck and will allow easy sliding.
Keep eggs at room temperature:
An egg is an indispensable ingredient in baking. However, adding the eggs, in the right way and at the right time is essential. To ensure better rise and fluff to your cake, bread or dessert, leave eggs out at room temperature for at least 30 minutes before preparation.
Salt the bottom of your cookies:
Sprinkling salt over the cookies before placing them on bakery trays and into the oven is a standard procedure. This might result in salt flakes bouncing off the cookie dough. Try sprinkling salt on the bakery tray so that they stick to the bottom of the cookies.
Use unsalted butter:
Salted butter could fiddle with the delicate flavours of your recipes. Use unsalted butter for the best outcome, especially if you are baking a cake.
D and V Plastics Inc. is a renowned
bakery supplier in Canada
. We provide top-quality bakery trays that will assist you in the easy baking process. Contact us today to learn more about our products.