4 Perks of Using Plastic Baking Trays To Display Food Items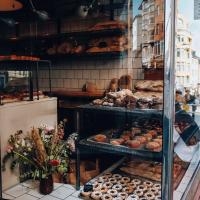 A growing baker must do all that's necessary for the growth of their business. This includes experimenting with new dishes, timely delivery, customer service, and most importantly, promotion. While the internet and word of mouth help promote a baker's business, there is nothing like welcoming customers by luring them in with mouth-watering dishes.
It is recommended that a baker has a storefront with all their special items kept on display. Displaying delicious food items will help the baker catch the attention of the people passing by. Plastic baking trays are one of the tools to put food items on display. Check out some advantages of using
plastic bakery trays
to display food items.
4 Perks of Using Plastic Baking Trays To Display Food Items
Easy handling:
Plastic bakery trays are lightweight and easy to handle. They can be carried around easily, which means less hassle and time spent on replacing food items or filling up empty trays with fresh baked goods. These trays are also perforated and thus can bear huge loads.
Heat resistance:
Storing or displaying hot food items is one of the most common challenges faced by bakers. Plastic bakery trays can easily tackle this problem. Made of high-density polypropylene, these trays boast impressive heat resistance. You can easily store or stack steamy hot food items without worrying about damage.
Eye-catcher:
Plastic bakery trays can be customized to the desired shape and colour. You can choose attractive and vibrant colours that would easily catch a passerby's attention.
Brand building:
Keeping your food items on display using customized plastic bakery trays will help you build a brand identity. The chosen colour and shape will help customers recognize your brand easily.