4 Unique Ways To Decorate A Cake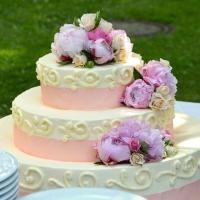 As a leading manufacturer and provider of bakery supplies in Ontario, we at D and V Plastics Inc. have and are working alongside many talented bakers. Our expertise in understanding our customer's specific requirements has helped us forge a lifelong bond with them. We have been catering to the bakery industry for several decades now and have learned a lot in the process while also providing them with the best-in-class service. Thanks to our years of expertise, we bring one such sharable knowledge via this blog post. Read on to check out some of the unique and best ways to decorate a cake.
4 unique and easy cake-topping ideas
Icing sugar:
Decorating a cake with icing sugar is one of the most easiest and effective ways to decorate your cake. It is one of the most practised decoration methods used without cream. You can either dust it freely on the cake or use nicely cut paper sheets and then sprinkle the icing sugar over the cake.
Fondant designs:
As a leading bakery supplies provider in Ontario, we have worked alongside many bakers who use fondant designs. Considered absolute show-stoppers, fondants help add 3D designs to the cake. However, it takes a good amount of skill and experience to create alluring designs using fondant.
Chocolates and candies:
Sprinkling chocolates and candies will not only add a colourful look to your cake but also make it mouth-watering. You can either add them between the layers or cover the entire topside with chocolates and candies.
Coconut enveloping:
Enveloping your cake with grated coconut is a unique and healthy way to decorate your cake. This goes perfectly well with vanilla or cream-flavoured cakes. It is one of the easiest cake-topping ideas.
D and V Plastics Inc. is a trusted manufacturer of bakery supplies in Ontario. You can count on us to source high-quality baking racks and
plastic trays
.