5 Tips To Bake A Crispy Pizza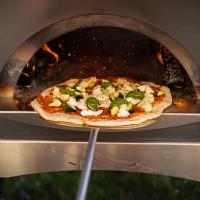 A baker's skill is not just limited to baking cakes and bread. A professional baker must be well-versed in baking muffins, croissants and most commonly, pizza. However, baking a pizza is not as easy as it sounds. Bakers face many risks in the form of burnt crust, undercooked toppings, soggy pizza base, etc, during the pizza baking process. D and V Plastics Inc., a trusted bakery supplier in Ontario, brings you a few tips to bake a crispy pizza.
5 Tips To Bake A Crispy Pizza
Preheating:
Preheat your oven to its maximum temperature. This will ensure that your crust gets nice and crispy. Failing to preheat the oven might result in your pizza base getting stuck to the bottom of the oven or the stone.
Even heating:
Even heating is very important while attempting to bake crispy pizzas. Using a pizza stone or baking sheet should help you meet this requirement. Another important factor is the type of oven used. Convection ovens are best for even heating. This will help conduct the heat evenly and prevent the bottom of your pizza from getting soggy.
Avoid overcrowding:
Do not overcrowd your pizza. Make sure that there is plenty of space between each slice so that the heat can circulate properly. Crowding pizza can cause them to stick against each other.
Always prefer a thin crust:
Use a thinner crust. A thinner crust will cook more evenly and is less likely to become soggy as opposed to a thick crust.
Shorter baking time:
Bake your pizza for a shorter amount of time. This will prevent the cheese and the toppings from becoming over-done and the crust from burning.
If you are a baker looking for fine quality bakery supplies in Ontario, choose D and V Plastics Inc. We provide durable
plastic baking trays
and many high-quality bakery supplies. Speak to us today!