A Report On Trends In The Canadian Bakery Industry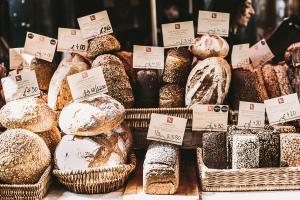 Bakeries are the second-largest portion of Canada's packaged food market. Interestingly, much of this growth has been due to increasing demand for baked products that are mindful of various dietary needs. Over the past few years, bakers have been working day and night to innovate, introducing new products with improved nutritional value to load their bakery trays. The baking industry has become more diverse, and we have prepared a summary of those trends for you.
Here are 5 trends in the baking industry:
Gluten-free food is the best example of a bakery product that has been increasing in sales since 2011.

Wheat-free flours, such as rice and chia flour, have also diversified the baking industry.

There have been new introductions to the frozen baked goods and dessert market, particularly when it comes to sweets, cakes, and pastries.

There has been an increase in demand for health conscious foods, including non-processed ingredients, and products free of trans fat.

Kosher products have boomed, offering everything from cakes to cookies.
Baked goods that fall within these new trends will easy fly off the bakery trays and into the hungry mouths of consumers.
Final Thoughts
In addition to launches of new bakery products, there has been a growing demand for eco-friendly packaging. This includes reducing plastic waste, providing reusable bags or boxed, and encouraging consumers to bring their own containers to fill at your bakery. When it comes to flavour, "plain" or "unflavoured" products are preferred among consumers. While this may seem counterintuitive, these simple treats are go-to's for many consumers. Fancy, embellished treats aren't everyone's favourite. While there is an increased demand for new flour types and many bakers use blends of them, wheat flour still remains the preferred ingredient. With these product innovations, bakery trays remain to be fully-loaded with mouth-watering and healthy baked goodness.
If you are interested in purchasing bakery trays for your business, simply give us a call. We can't wait to see the tasty treats you will use them for.