All About Baking Racks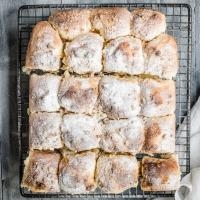 Baking racks help separate items being baked from the surface of the ovens they are placed in. Apart from separating items, these racks are also used for proper storage and arranging items in neat rows and columns.
Baking racks are a crucial tool in the arsenal of all bakers.
It is impossible to perform several important tasks in baking and in personal commercial, and industrial kitchens without the use of these racks. There are several key features that make a good rack for baking.
These include the racks being coated with non-stick film as well as being built from heat resistant material. These racks come in many shapes and sizes and are sometimes custom built for the exact requirements of those using them.
While individual or small to regular sized bakers and bakeries may only have the need for small and standardized backing racks, industrial baking requires that these rack be able to take far more heat and weight for longer periods.
Using racks when baking eliminates the need to use pans or pots which tend to blend items and are not meant to keep them apart but rather mix them. It is hard to maintain the integrity of delicate and moulding products when being baked when using pots and pans, even on an industrial scale. This is why baking racks are considered the go-to option for when dealing with such items.
Another added bonus of these racks is the ability to stack them above one another. This allows for better storage options for both in baking ovens and outside them.
The material used to build these racks range from metal to plastics however, the reactive nature of metals and its tendency to conduct heat easily don't make it an all round choice for personal, commercial or industrial baking. Meanwhile plastic is a man-made substance and therefore entirely modifiable for specific needs. Plastic racks are very neutral to chemical reactions and can be made to withstand tremendous heat.