Decorating Ideas Using Plastic Baking Trays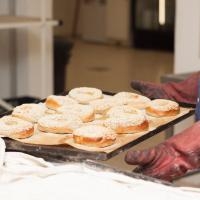 Do you have a lot of plastic baking trays taking up space in your kitchen? If so, you may be wondering what to do with them. Well, don't throw them out just yet! There are actually a lot of different ways you can repurpose those plastic trays and use them for other things around the house. In this blog post, we will explore some different decorating ideas with the help of plastic baking trays.
What are plastic baking trays?
Plastic baking trays are an important part of any bakery. They help to create a professional look for your cakes and pastries, and they can also be used to decorate your bakery. There are many different ways that you can use plastic baking trays in your bakery. You can use them to create a variety of different looks for your cakes and pastries.
You can also use plastic baking trays to decorate your bakery and also store your food products efficiently. If you are looking for ideas on how to decorate your bakery using plastic baking trays, read further.
Various decorating ideas using plastic baking trays
Plastic baking trays are a versatile decoration tool that can be used in a variety of ways to spruce up your home. Here are some ideas on how to use them:
-Hang plastic baking trays on the wall as unique and interesting wall art.
-Use them as plant holders by drilling drainage holes in the bottom and filling them with soil.
-Turn them into storage containers for small items such as jewelry, desk supplies, or makeup.
-Cut them into shapes and use them as stencils for painting or crafting projects.
-Use them as coasters or trivets by hot gluing felt to the bottom.
D and V Plastic Inc. is a customer-friendly bakery supplier in Toronto. Contact us to source quality products.