Delineating Different Bakery Supply Needs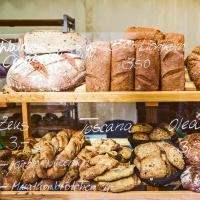 If you own or manage a bakery operation, then you likely know just how important it is to have a reputable Canada bakery supply to meet all your operational and equipment needs. But figuring out what sorts of equipment and baking accessories you'll need will largely depend on how you differentiate yourself from other bakery operations around you.


Delineating your operational needs is a great start to determining how your go-to Canada bakery supply can meet them.
When we break it down, there are two broad categories your business can fall under when it comes to the baking industry: retail and wholesale. In today's blog we compare and contrast retail and wholesale bakery businesses to better understand their supply needs.
Retail Bakeries
Retail bakeries are the businesses that you are likely most familiar with. They typically have a dedicated store front for selling baked goods to customers, and back spaces dedicated to preparing the baked goods. Retail bakeries can also specialize in specific bakery products - cookies, pies, tarts, breads - you name it. A retail bakery can offer a large range of one type of baked good or offer the full spectrum of baked goods to their customers.
The largest difference between retail versus wholesale is their consumer. Retail bakeries offer their products directly to the customer. "Business to consumer", or B2C is what sets retail apart from wholesale bakery businesses. In this regard, bakeries tend to produce baked goods in smaller batches for customers to purchase, and as such do not require the same amount of bakery supplies as large-scale wholesale bakery operations.
Wholesale Bakeries
Wholesale bakeries are not open to regular consumers like you and me. Wholesale bakeries instead meet the needs of the commercial market. They supply other businesses (business to consumer, or B2B) with baked goods produced in their facility. It is for this reason that wholesale bakeries do not have a storefront in the same way retail bakeries do. Rather, most of their floor space is maximized to produce more product output. As such, wholesale bakeries will require a wider breadth of equipment and generally more supplies from their Canada bakery supply.