Earning the Trust of the Consumer as a Bakery Supplier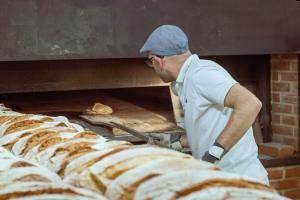 For many bakers, particularly in
Canada, a bakery supply
has become a go-to for maintaining an adequate supply of plastic baking racks and baking trays.
Aforementioned products like these continue to pave the way for bakers looking inhabit practices of longevity, durability, and customization in the ever demanding world of bakery.
To step up to this demand, it is imperative that any distributor worth working with have logistical protocols in place to hasten the shipping process.
Tight deadlines make it a necessity that supplying partner's exhibit responsiveness as there are many businesses vying for the top spot of "Canada's bakery supply".
With this in mind, our latest article puts together pieces of what makes a bakery supplier stand out from the pack. Plastic baking rack and tray manufacturers that continue to wow their clients must be doing something right in a landscape as cut-throat as Canada's bakery supply.
Product Takes Priority
Even with the most sincere of flourishes, personal touches, and lowest of prices, if you bakery tray isn't up to snuff in terms of handling characteristics, i.e. quality, then that's business left on the table. The heavy-handed nature of baking requires a product that can maintain composure in the toughest of situations and improve your baking output – a trait the plastic trays at D&V Plastics are renowned for.
Leaving Your Mark
There are no shortage of marketing tactics at a bakeries disposal to stand out from the crowd, though there are some tried and true methods adopted by most – to see this, all you have to do is take a visit to a chic side of town; an abundance of bakeries are fighting for your attention.
Leaving your mark – in other words, your custom flair – gives a sense of distinction from the flurry of bakeries that exist throughout any particular area. Whether it be a logo, shapes, and/or colour themes, associating your bakery with a visual component goes a long way for customer retention. For most in Canada, their bakery supply does not offer such tailorability – not the case with D&V, where made-to-order plastic trays have dedicated production methods throughout our facility, leaving us ready and never caught off guard for a request.
D&V Plastics – Where On-Demand Delivery Meets Customer Service
We don't believe having to wait around for exorbitant lengths of time is conducive to set up any bakery for success. For many, D&V is the name for Canada's bakery supply, and living up to this name means having manufacturing facilities that work around the clock (24hrs/day) with on-request delivery. We don't rest until you're happy, so get in touch and see the difference for yourself!