Essential Accessories for Your Bakery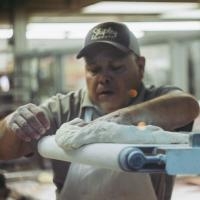 There is no doubt that running a bakery is a lot of work. Ensuring your team and facility is equipped with the task of pumping out baked goods on a daily basis might seem like quite the undertaking. But it doesn't have to be!
Alleviate some of the stress of having to run your business by looking for ways to make everyday options more efficient.
Opting for quality bakery accessories like bakery trays, racks, and other small wares can help streamline the process. Today we'll discuss a few essential accessories every bakery facility should have.
Bakery Trays
Quality bakeware is essential to ensuring operations run smoothly on a daily basis. Unreliable bakeware will warp and impact uniformity of product – which can add up in cost in the long term. Forget having to pay twice as much by purchasing poor quality bakeware. Invest in quality bakery trays for ensured reliability.
Bakery Racks
Bakery racks effectively cool down baked goods while also maximizing space. Stackable and lightweight, baking racks should allow you to meet your product quotas seamlessly. Spending money on having to replace poorly made and easy-to-break racks is a waste of time and money. Making the decision to spend on quality bakery racks can make all the difference.
Spatulas, Spoons, Mixing Bowls
An array of tools are used in the baking process. Make sure you have everything needed to yield the product results you're looking for. Start by making a list of what is needed, set a budget – and ensure every part of the baking process is met with the necessary tools and equipment. It would be a mistake to overlook smallwares like spatulas, spoons, and mixing bowls in the purchasing process.
D & V Plastics is a Reliable Source for Quality Bakery Supply Products
D & V Plastics is a reputable name in Ontario's bakery supply industry. For years, we've specialized in supplying quality and reliable products to bakeries across the province. We hold a higher value of excellence when it comes to providing state-of-the-art bakery racks and trays. For all your bakery supply needs, be sure to call D & V Plastics today!