How a Plastic Tray Can Service Your Baking Needs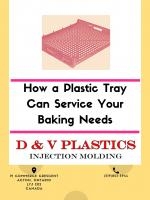 The popularity of plastic trays continue to grow, and their uses becoming ever-expanding. This is owed, in large part, to their ease of production and low associated costs. The list of reasons to own a plastic tray for your baking needs continues to grow, and we've gone ahead and made these reasons easily accessible for you – if you don't currently own one, this may just be what you were looking for!
Outlined below are a few of the more significant aspects that make a plastic tray so practical for your typical bakery protocols:
Durability
Dropping a tray can be bothersome at the best of times, and the destruction of your tray can only worsen the situation – not a worry for plastic, however! Plastic trays, unlike glass, are not as commonly susceptible to being broken; useful for those moments when things can get a bit heated in the kitchen. They're also no pushover – plastic trays made of polypropylene, such as ours here at D&V Plastics, are able to be stacked upon another to carry loads of up to 600lbs.
Lightweight
By contrast to metal or glass trays, a plastic tray has the beauty of its material composition on its side. This allows it to be essentially weightless – making those trips back and forth from the kitchen less of a burden, and increasing productivity as a result.
High Insulation
It's always good practice to protect your hands when handling freshly baked goods, especially around metal trays. However, mitigating disastrous situations in the workspace is always a good idea. Thanks to the high thermal insulation capacity that plastics possess, they make for an ideal container to carry your fresh bakes while minimizing the risks.
Non-stick
Materials possessing an innately large irregularity in their surfaces can be contribute to more grip on a microscopic level. This can be particularly bothersome for hot and fresh baked items, making extraction from the tray exasperating as potentially ruining the integrity of the baked good.
This, however, is less prominent in plastic trays thanks to possessing a low-friction surface; making your fresh baked bread slide right off when you most need it.
Corrosion-resistance
Metal trays are infamous for rusting and blemishing throughout its lifespan, devaluing the aesthetic of baked goods harbored within them. Fortunately, this is much less frequent occurrence amongst plastics, allowing you to keep your trays and baked goods looking fresher, for longer.
Heat-resistance
You may think that plastics and heat don't go together. However, plastic trays manufactured from synthetic polymers, like ours, have no issues handling temperatures above 300°F while retaining its structural integrity.
Cost-effective
Replacing a stainless steel tray, or the like, can be a costly endeavor when it occurs. On the other side, plastic trays can be manufactured at a much more affordable rate, at a wider availability, and reliable manufacturing process; saving you the time and effort needed in dire situations.
Low Maintenance
Your plastic tray can expedite your operations due to its efficient clean-up – all you need is a non-abrasive sponge or cloth, hot water, and washing-up liquid to get the most out of it. Human error can easily occur with the more intricate materials, requiring a lengthier and more specific cleaning process.
It is for these reasons, and more, why the plastic tray has become a constituent part of the arsenal in a kitchen, for both business, and logistical situations.
Plastic Trays Are Our Forté
Our high-density polypropylene trays at D&V Plastics provide you with all the benefits we've listed above – and more! We have the capacity to tailor our trays around your exact specifications, dimensions, colors, and keeping your brand at the forefront by providing stamping solutions. To show our commitment and tenacity, our facility operates 24 hours a day, providing the best trays within Toronto and the GTA. Feel free to get in touch, and we'll be glad to guide you towards a best solution.