How Bakeries Are Using Plastic Trays to Stay on Top of the Market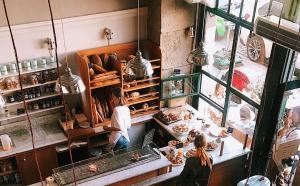 In recent years, manufacturers in the plastic tray industry have seen a significant growth in market share. In light of this, manufacturers in this sphere, such as D&V Plastics, continue to focus on developing cost-effective items, and launching new, innovative products for bakeries.
From this increased demand, manufacturers are now reinvesting in their facilities, and forming strategic partnerships with key distributors and end-users of the plastic tray.
So what exactly is propelling this growth? While much of it is reliant on the launch of new products, what has really triggered this development are the guidelines in place that now boost the recyclability of said trays, an invaluable proposition for bakeries that deal in high volume.
Bakeries Form the Recipe for Success
The food industry - bakeries in particular – has gained traction in adopting these reusable plastics trays, much like the high-density polypropylene ones we provide at D&V Plastics.
Unlike before, plastic trays now form an essential part of a baker's inventory as they are known to be:
· Non-toxic
· Durable
· Safe to handle
· Recyclable
· Chemically resistant
The Entrepreneurial Solution
Practical benefits aside, there lies another tale to this success story – customisation.
It used to be that customising one's inventory with their company name or logo was a strategy reserved for the booming businesses. Not any longer. The plastic tray has paved new territory for budding businesses looking for soft marketing strategies at affordable prices.
There is yet another side to their success - inventory management. Businesses early in the bakery game find themselves tackling this problem from the get go, requiring as much space as they can due to the assortment of equipment and tools at their disposal. Woes begone, with their ability to be nested on top of one another, plastic trays have become a saviour in area management for those strapped for space.
Don't Be Left out of the Race
The market has spoken and the case for plastic trays continues to be made for the foreseeable future. As a Canadian based manufacturer of these trays for the past 20 years, we've kept pace with these trends by investing in leading injection molding machines that not only make our life easier, but also yours.
Help make your bakery be the best it can be by getting in touch with D&V Plastics!