How to Start a Bake Shop with Canada Bakery Supply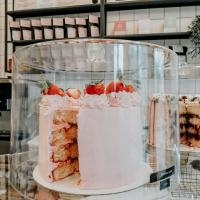 Transforming talent, knowledge, and dedication into a successful bake shop can be the next step for an individual with the idea of starting one. As a specific form of business, a bakery allows the offering of quality items to serve a particular market. When deciding on the type of bake shop to create, it is important to consider and assess your talents, budget, and goals. Performing research on trends and local markets can provide valuable insights, and when it comes to growing a specialty destination for baked goods, investing in Canada bakery supply should be a top priority of the overall plan.
D & V Plastics Inc. is an experienced member in the space dedicated to Canada bakery supply, and our team is focused on meeting your needs with the products we carry.
Food preparation and handling
In the case of determining the nature of your bake shop and its location within Ontario for instance, becoming familiar with the Ontario Food Premises Regulations and certain licensing requirements can influence how to proceed with decisions. Other licenses and permits might be required, based on the location and services of the bakery.
Business plan and registration
Making a business plan is one of the first steps to increase chances of success. This involves looking at the bake shop from different angles, such as laying out a financial plan, schedules, responsibilities, plans to strengthen your business, as well as marketing and advertising. To legally establish the bakery, one can either register a small business license or incorporate in Ontario.
Shopping for space and pricing your baked goods, both done in a careful manner, are also essential to starting a bake shop. Browse our website and contact us today for more information on producing a positive experience for customers with the help of Canada bakery supply, and how D & V Plastics Inc. can support you with the racks and trays we manufacture.