How to Store Cookies using Baking Racks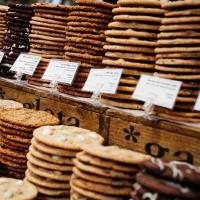 Whether baking for holiday themes or everyday enjoyment, keeping baked goods soft and fresh when stored is an important goal. In terms of cookies, they will last for approximately three days at room temperature with proper storing, and they will last for up to six months in a freezer. For a bakery making cookies and other treats, a high degree of work is required, and rushing the cooling process would be detrimental to the efforts made. Cookies must be cool to the touch throughout before storing them on baking racks, or the packed heat might lead to condensation build up, which will have a negative impact on the desserts.
D & V Plastics Inc. serves our clientele with a wide range of baking racks, and we are focused on meeting their needs with high-quality products and experience.
Different types of cookies
If it is necessary to store different kinds of cookies, keeping them on separate racks is ideal. Otherwise, soft cookies may moisten crisp ones, and opposing flavour profiles, like with oatmeal-based creations and gingersnaps, can begin to blend together.
Store cookies in layers
To avoid cookies sticking together when stored, their arrangement in a single layer with a piece of parchment or waxed paper between layers is beneficial.
Keep cookies cooled down
Storing cookies in a cool and dry place is the best way for them to stay fresh. Based on the variety, they will last at minimum a few days in this setting. Cookies can also be frozen for up to six months. In order to thaw these, taking them off the rack and spreading them out on a clean baking sheet (until they reach room temperature) is recommended.
Browse our website and contact us today for more information about our baking racks, and how D & V Plastics Inc. can support your business with our customizable product line.