How to Use Presentation to Drive Up Bakery Sales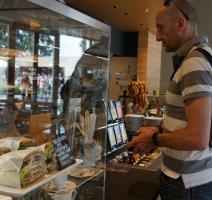 If you are a bakery with a range of exciting recipes, you have already covered one of two key aspects in a bakery's success. The second factor goes beyond great products and down to the presentation of said products. Whether you're stacking your goods in a simple pattern on a plastic tray, or creating an elaborate showpiece entirely out of pastries, the kind of presentation you utilize will inform your customers about the personality of your bakery and the kind of products they can expect from you.
Here are some tips that can help you be more strategic about your products' presentation:
Be Dynamic
If your display cases look the same throughout your bakery, chances are they will not draw much attention. If there is a specific product you want to drive sales up for, try adding some variation to that display. Perhaps set it apart by utilizing creative packaging or by using a well-decorated plastic tray.

Stay On-Brand
Don't get too carried away with an extravagant, colourful display, unless that is your brand's aesthetic. It is important for you to determine and stick to your brand's image, making sure every aesthetic choice you make is cohesive with your overall image. For instance, if your café is known to be eco-friendly, adding wood textures and green colours is a great idea. Stick to the colours and styles that your consumers love.

Appeal to the Senses
Keep your display shelves smudge-free and sparkling clean. Add more lighting to showcase your displayed items. And of course, let your oven work its magic and fill the air with that delicious bakery smell. Consider labeling each plastic tray with fun phrases, such as "fresh out of the oven!"

Avoid Empty Space
It is important to have room to breathe, but if you find that you are wasting space, try to fill it up. A bakery full of products draws in more customers. You can keep products on plastic trays stacked on top one another.

We hope this list of tips helps you think about how you want your bakery to approach presentation. With beautiful displays, you will see your sales grow in no time.