Important Design Features for Customized Plastic Trays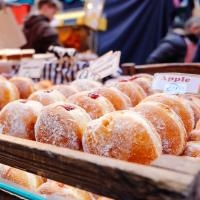 Being into the food industry, especially operating a bakery, entails a great deal of dealing with specially-customized products. This is because the needs of bakeries vary so widely from one another. In addition, for most bakeries, supplying niche products made with the help of customized equipment is key to their business' success. Something as simple as the kind of plastic tray that is used makes a difference.
When it comes to choosing the right plastic tray, it seems simple enough. However, there are actually a few factors to consider that can help determine the specific quality of trays you receive.
Stacking: this feature is different from nesting and is specified to allow tray stacking without loads on parts. Both stacking and nesting requirements can be incorporated into any plastic tray.
Easy Handling: this is an important factor that can help you avoid mishandling and prevent well-presented baked goodies from having their design disturbed. A plastic tray can be designed with a finger or tweezer clearance for easy carrying and placement of trays.
Engraving: you can really make your equipment feel like your own by engraving the name of your business on them. Aside from that, there is also the option to engrave numbers or other information onto the plastic tray.
Lids: this feature suits stock or custom trays and can be designed to fit into cavities. They can also be clear for better visibility of the products. These plastic trays can also be used to display products, protecting them from the elements but also showcasing them to customers.
D & V Plastics manufactures high-quality customizable plastic trays for use in bakeries and kitchens. The materials that we use help bakeries adopt a more versatile and convenient approach to using plastic trays.
For instance, with our plastic tray, you can avoid stickiness thanks to the low-friction properties of the materials that we use. Get in touch with us today to learn more about our customizable plastic trays!