In Need of Heavy-Duty Bakery Supply Products?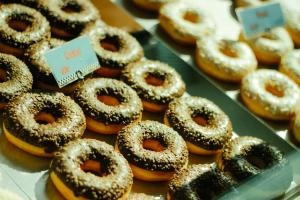 Ontario has become a booming state since the turn of the century and some of the oldest business establishments that have stayed through these years providing food and delicacies to the public are the bakeries. If you own one of the bakeries in Ontario and in need of plastic bakery trays, better try an established Ontario bakery supply company like D&V Plastics.
Our company, D&V Plastics has been in the business of manufacturing plastic baking trays for more than two decades and we have actually perfected the art of creating unique trays that any baker should wish for.
Why Our Products Are Special
For one, we use high-density polypropylene materials to come up with heat-resistant and non-stick plastic trays so even you put your bakery products in the oven to heat them, they don't warp or fade even for years.
We don't use toxic materials with our trays, however our products are very lightweight and heavy-duty. You can pile them in a single stack and can carry up to 600- pound weight. This feat cannot be accomplished by the plastic trays made by some other companies and this is why we are proud of our product wherever it goes.
Customizing Your Bakery Items
Another feature we have available with your orders, is we can customize or personalize your Ontario bakery supply plastic products. You want your bakery name on it, or your logo, or put a simple message on it, no problem. We can manufacture a lot of them in no time and we can guarantee you we can deliver your order as per our turnaround time.
Our office is open 24/7, 5 days a week. But if you want to leave us a message right on our website, please do so even on weekends. Once we read your message, we will contact you through your email address quickly. So talk to us and we are always ready to manufacture your Ontario bakery supply products with your name or brand on it.