Inside the Toronto Bakery Supply Business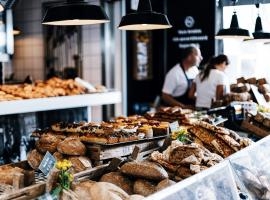 Many manufacturers of Toronto bakery supply items are found in the GTA. D & V Plastics is one of the leading companies in providing high-quality bakery supply products in the industry. Our company has remained relevant to the market for decades and still going strong. Our focus is reinforced every year by the simply profound objective to meet and surpass our client's expectations. Our products are characterized by exceptional strength, excellent finishes, and outstanding designs. They enable the user to constantly get bakery supply items with no hitches whatsoever for years on end.
Being veterans in the Toronto bakery supply business, we have perfected the art of adding aesthetic and cosmetic value to your business by offering customization of your equipment thereby enriching your business. This is also done by having clients give item specifications so that we can deliver the product of their description. The company has invested great wealth in state-of-the-art manufacturing equipment that makes this possible.
With a team of experts, the company uses high-density polythene to manufacture high-caliber plastics including trays and baking racks.
Our company is open 24 hours, 5 days every week in order to ensure that the bakery supply demand is met. The technological expertise of our operators makes the difference in our products. A large number of bakery businesses in Toronto have been able to minimize bakery supply items' loss through our impact-resistant products. We have always sought the satisfaction of our customers and this has made us the most opted for company in the region in regard to the Toronto bakery supply business.
This is the single most basic reason why we believe that we are an unparalleled business partner for you, well suited to meet your various needs while offering customer service that is nothing like what has been experienced in all of Toronto.