Manufacturing Quality Baking Racks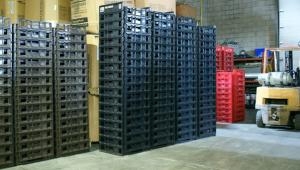 At D & V Plastics, we pride ourselves in providing the very best bakery supplies for your business. We're committed to seeing your business thrive. From baking racks to plastic baking trays, our products are designed to bring out yours and your company's potential.
Our baking racks and plastic baking trays will not only improve your ability to do your work, but help your business thrive!
When manufacturing our plastic baking trays and baking racks, we utilize machinery that maximizes our potential to deliver high quality products for you! With outstanding durability, our products are incredibly reliable.
We have a commitment to quality here at D & V Plastics. We operate 24 hours a day out of our facility in Acton to ensure that we're always ready to provide for you. When it comes to our operation, we spared no expense in investing in the very best machinery today's technology can offer.
At our modern facility, we're able to accommodate large orders in a small amount of time. Because we operate all hours of the day, we can meet whatever order you might have, big or small. Our operation allows us to produce 60 bakery racks every hour!
We understand how important baking racks and plastic trays are to a bakery business, which is why we strive to provide the very best bakery products for you. Our baking racks are industrial-grade, allowing you to handle large-scale orders. We use injection molding within our manufacturing process which provides better quality baking racks that are much more durable.
The way we operate and our commitment to your satisfaction and success is what makes us leaders in the bakery supply industry. We believe that with our high quality products and outstanding customer service, we can not only help your business thrive, but achieve your business' potential.