Metal vs Plastic Baking Trays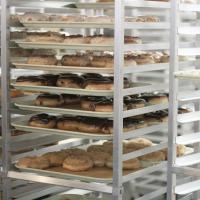 Baking trays are one of the most essential apparatus in a baker's kitchen. They serve various purposes like storage, food processing, heating, etc. and come in various sizes, shapes and materials. This is why choosing the right type of baking tray is not easy.
One should consider the requirements and applications before investing in baking trays. Metal and plastic baking trays are the most commonly used types. In this blog, we highlight a few major differences between the two.
Metal vs Plastic Baking Trays
Heat Distribution:
A plastic baking tray will provide more insulation compared to its metal counterpart, which means heat distribution will be even across the tray. On the other hand, metal trays are more susceptible to gaining hotspots and uneven heating, which could lead to darkened bottom and uneven baking.
Stickiness:
One of the notable benefits of using a plastic bakery tray is that it won't need oiling or greasing before being placed in the oven. Thus, as a baker, you can escape the strenuous job of cleaning the grease and oil. This also facilitates easy cooking as the food items won't stick to the tray's surface.
Convenience:
Plastic baking trays are easy to handle as they are lightweight. Bakers used to go with metal trays for their sturdiness. However, plastic trays made of high-density polypropylene are renowned for their durability and sturdiness. Additionally, they also eliminate the risk of rust and corrosion.
Customization:
As mentioned before, baking trays come in a variety of shapes and sizes, depending upon the requirement. A plastic baking tray can be easily customized as per the baker's choice. It is also easier to imprint your brand name and logo on a plastic tray and create your unique identity.
D and V Plastics Inc. is a trusted brand that manufactures bakery supplies in Toronto. Our highly trained staff are ever-ready to answer your queries. Get in touch with us today to let us help you grow your bakery business.