Our Technology for Manufacturing Quality Plastic Baking Trays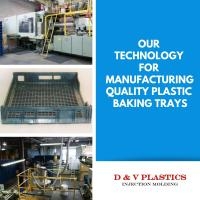 While it may seem like the manufacturing process of a plastic tray for baking would not be very sophisticated, we've taken innovation of this piece of baking equipment to the next level. Just like any tool, a baking tray can continue to be developed using new materials to further improve the baking process. A highly evolved baking tray is especially useful for bakeries, in which bakers require equipment to handle the production of large quantities of baked goods. We have developed our manufacturing processes to create one of the most durable and reliable types of baking trays available on the market.
Our Expertise in Plastics
We manufacture all of our trays and racks in-house, which allows us to fully customize our products to meet our customers' specific needs. Our manufacturing processes occur in a 8,100 sq ft facility in Acton, Ontario. Our staff consists of experts in the plastics industry, who are capable of designing and manufacturing various types of plastic equipment. With their expertise, we have developed an industrial-grade plastic tray adapted for baking purposes.
Our Facility and Production Capabilities
Our facility contains two state-of-the-art Nissei FVX660 Hybrid Injection Moulding machines; each of these machines has a clamping pressure of 720 tons. We use these machines for high-precision production of our baking equipment. They also allow us to produce large quantities of our products quickly, which means we can complete large orders for growing bakeries with a quick turnaround time. We are able to produce up to 60 bakery trays or racks per hour, even with customization taken into account.
At D & V Plastics, we supply durable, heat-resistant plastic baking trays for bakeries across the Greater Toronto Area. We have become a trusted manufacturer of baking equipment as we make use of innovations in the plastics manufacturing industry to produce trays and racks of the highest quality. Our baking trays are made of hardened silicone to heat baked goods evenly and cool quickly. Contact us today if you're looking for a quality plastic tray for your bakery!