Plastic Baking Racks and Trays that Stand the Test of Time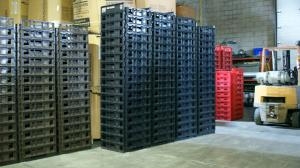 Are your plastic bakery trays and racks not fulfilling their purpose? Do your baked goods constantly stick to the pan and warp when under high heat? No worries! D&V Plastics have the experience, man-power, and facilities to produce high-quality, durable plastic trays you can depend on.
Our plastic trays and racks are known for their durability. This is because they are manufactured using a high-density polymer called polypropylene. Polypropylene is known for its heat-resistance properties, it's durability, and ability to carry heavy loads. The substance will also not easily warp or fade, and offers insulation. The result in utilizing polypropylene to manufacture our bakery trays is that they are able to carry a large number of newly-baked food products, they are non-stick, able to endure the heat from industrial grade ovens, and maintain the thermal warmth generated from the freshly baked goods.
Stream-lining the Production of Your Industrial Baking Needs
We have stream-lined the manufacturing of our products to suit the specific needs of our clients. We are capable of meeting your industrial baking needs regardless of volume and specifications. We ensure high-quality, durable products, meant to stand the test of time.
Our skilled personnel offer years of experience working in the plastic manufacturing industry. We operate in a large facility equipped with the machinery used to manufacture industrial grade materials into high-quality bakery trays and baking racks.
Personalizing Your Product
We are industry leaders in the manufacturing of plastic baking racks and trays in Toronto and across the GTA. We are one of the few tray manufacturing companies available that are able to personalize your trays based on the colours of your company brand while also delivering products on demand that are non-toxic, heat-resistant, and durable.
Be sure to give us a call if you're looking for high-quality racks and trays manufactured on demand. We would love to discuss your industrial baking needs and requirements!