Plastic Tray 101: The Different Types of Plastic Trays Available in the Market Today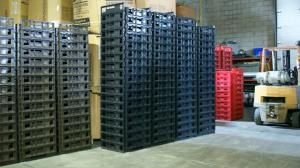 One of the most important utilities in the day-to-day operations in the food service industry is the plastic baking tray. From fine dining restaurants, industrially sized bakeries to fast food chains, plastic trays are a mainstay of any operation. These trays come in different types, sizes, and shapes to meet specific needs and scale in the food industry.
These are the different types of a plastic baking tray that are most commonly used in food-related business.
Different types of trays made from various materials allow each business to store, transport and produce according to their needs.
Polycarbonate - A plastic material that has a very high resistance to breakage but only has a moderate resistance when it comes to staining. This material is also prone to scratches, but it offers a better range compared to other plastic materials.
Melamine – This plastic has been in use since the 1830s. It is durable material that has a high resistance to high temperature as well as stain. It's an ideal material that can be used in dishwashers with a faster drying time.
Polypropylene - Introduced in the early 1950s, it's a material that features moderate resistance to scratches and breakage. However, it has a very high resistance to stain and can handle moderately high temperatures.
Acrylonitrile Butadiene Styrene (ABS) - This is a plastic material that features heavy resistance to scratches, stains, and breakage. It is a very durable material that can also handle moderately high temperatures. This is also a cheaper material used for manufacturing plastic trays, making it the best choice for restaurants.
Those are some of the most common materials used to produce plastic trays. For more information or to learn how we can help your business, call or D and V Plastics today!