Plastic Tray Considerations... What You Should Know!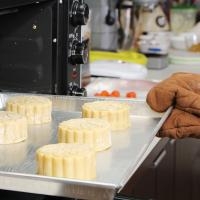 While most think of a plastic tray as being something you simply buy without much consideration, the truth is that running a bakery means putting some extra thought into the plan. Choosing the right product will mean understanding its intended application, as well as how a single tray's dimensions can influence end results. Ordering from D & V Plastics is already a strong step, but there's no substitute for being informed! There are a number of things you'll want to look into and understand before putting in a large order for these useful devices.
Choose Your Plastic Tray Wisely:
Density - When it comes to baked goods, the ability to transport a large number of items at once is of paramount importance. Consider the density of the main material – is it durable enough to manage your bakery's needs? How much can you place on it before it breaks, and will it be enough? Understanding the tray's strength to compare with your needs is a crucial step before purchasing.
Size and Design Specifications - Needless to say, the physical size is another very important consideration. A sheet that can fit 100lbs of goods on it is useless if it can only fit a single item across its surface! Always make sure the plastic tray will fit enough items on it to be efficient in day-to-day operations.
Cost - Another reasonably simple consideration is the cost of your order. Using the right tray will increase efficiency and prevent mistakes that result in spoilt food – but it should still be reasonably priced for your needs.
For D & V Plastics, the baking tray is at the core of an efficient bakery, and our commitment to product quality means that we have considered all of the above aspects of every product we create. Of course, every bakery is different, and every need unique, so our custom design options will leave you with exactly what you need regardless of the unique considerations you may have. Give us a call today for a free estimate!