Selling like Hot Cakes: Consumer Trends in the Baking Industry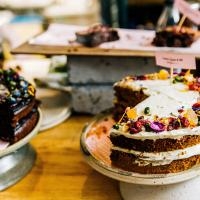 Bakeries everywhere know that there are two different kinds of revenue in terms of bakery products sold: there are the daily mainstays that provide regular revenue and please regular customers, and then there are new creations that can attract attention and new customers, thus producing higher revenue. Bakery trays everywhere are stacked with fresh pastries, cakes, and sweets, as a recent study about consumer trends for baked goods continues to be on the rise.

The same study shows that while old favourites are still very much alive, consumers are also always on the hunt for new products.
Both types of products see themselves sharing the space in the bakery trays and display shelves. Here are the latest about trends in the baking industry's sales:

Let Them Eat Cake

When it comes to the specific products that are being produced, the bakery items that were produced most were cookies, cakes, cupcakes, muffins, cinnamon rolls, and bread – in that order. In terms of sales, cake dominated the top spot, followed by cookies, bread or rolls, cupcakes, sandwiches or wraps, and then donuts.

Macaron Mania

Of the cakes, the types of cake that made the most sales are cake slices, specialty cake fillings, cake pops, celebration cakes, and then seasonal cakes. As for cookies, macarons are flooding bakery trays in a colourful parade, the craze for the delicate, fancy delights still not dying down.

Baking Healthy

The new products that have seen the most growth are health-conscious products. As Canadians become increasingly mindful of their eating habits, gluten-free and vegan goodies are flourishing. Kale rolls and bundt rings are just some of the many new health-conscious products to hit the scene. Ethical or environmentally conscious goods, including the packaging, are also becoming very popular.

With reliable partners like D & V Plastics, bakeries will have so much more room to experiment and develop even more exciting products down the line.