The Basics of Baking Racks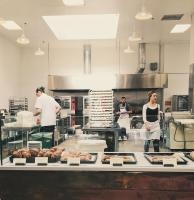 Baking racks are by no means considered to be fancy baking equipment – rather, they are more like the underdog of the kitchen, silently and unassumingly propping up the kitchen with their essential functions.
Baking racks are behind cakes not becoming soggy. The cooling period afforded by resting your cakes on baking racks allows your cakes and baked goods to release all the hot steam trapped inside them, which would have otherwise condensed back into water and turned the cakes into mush.
Any high-standard kitchen needs a good supply of quality baking racks.
Here are some factors to consider about baking racks that can help you choose the best ones for your kitchen:
1. At first glance, many can mistake baking racks for oven racks which look similar. However, a baking rack was made specifically for cooling purposes, and having a large quantity that can fit in a number of baking rack trolleys means being able to cool your baked goods en masse.
2. Another consideration is the size of the rack you need. It is important to note that some baking racks are manufactured based on quantitative measurements such as inches while others are made according to pan size, for which a quarter-sized baking sheet might be used as a measurement. So, it helps to know what baked products you are going to be using on the baking racks in order to determine the right size. You should also think about the available space you have in your kitchen and how you are going to position your baking rack trolleys.
3. Grid size is also critical to consider. Grid size refers to the crisscrossing patterns on your baking rack. Regular oven racks do not have a grid, which is one of the many reasons they are not suitable for cooling purposes. Grids can hold resting freshly baked goods better, as they are less likely to make indents in the cakes and are more stable. Knowing what kind of products you want to use on the baking racks is crucial so that you acquire racks with appropriate grid size.
D & V Plastics produces some of the finest baking racks in our state of the art 8,100 sq. ft. facility in Acton, Ontario. With our best-in-class equipment, we can make custom trays in a variety of colours, and then deliver them to you on demand. Get in touch with us today!