The Top 3 Baking Industry Trends Essential for Your Bakery Business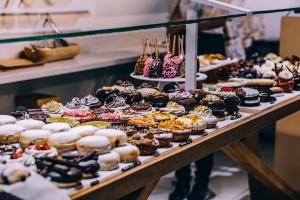 The secret of successful bakeries is offering a wide variety of products to attract not only health-conscious consumers but also those that crave for classic indulgence. That is why it is important that a baker should have a complete Toronto bakery supply to address the increasing trends the bring people in.
The baking industry has approached sales of almost 50 billions of dollars a year. The high demanded for baked goods includes cookies, breads, snack cakes, and crackers. This increased retail growth in the bakery industry is mainly due to one overarching goal - that is, reaching the right customers. The top influential trends in 2017 can reshape the retail bakery business.
With the right Toronto bakery supply, your business can meet and capitalize on these trends:
Trending cakes
There are a variety of color trends that cake decorators must be aware of. A popular example is the chalky pastels with imperfect textures and unfinished edges in which colors are muted but appear contemporary. The young creatives of cake decorating bring in a great combination of beauty and grit into the design process. Other trends include painting on cakes, use of emojis, cereals, and candies, as well as the popularity of drip drizzle cakes. You can try any of these in baking your own cake products with your Toronto bakery supply.
Savory goodness
Savory will play a key role to the future success of bakeries. Most bakers say that savory will outpace sweet baked items in sales. This is because younger consumers consider bakery as a good place to go to enjoy delicious snacks. Great examples of savory products are malted sorghum muffins and gluten-free, spicy breads. They provide the best of two desirable food qualities: healthy and great taste.
Non-PHO shortenings
The Food and Drug Administration has new rules for bakeries that would affect your Toronto bakery supply. Bakers must reformulate bakery products without partially hydrogenated oils, or PHO. That is why a new line of zero-trans shortenings made with high oleic soybean oil are now introduced in the market which are mostly used for icings and laminated doughs. The new federal rules are mandatory and bakery owners are given until June 2018 to comply.
Any of these trends along with a high quality and dependable Toronto bakery supply can have a huge impact to your bakery's success. D&V Plastics has been specializing in offering a range of highly reliable and durable products for more than two decades to Toronto bakeries. Our commitment is to provide excellent products, including custom plastic trays and baking racks, to ensure your continued operation. Contact us today to learn more!