Three Hot Trends to Put Those Bakery Trays to Good Use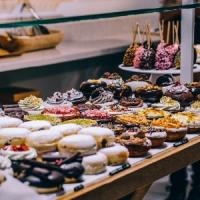 Are you in the bakery business and looking for various ways to make your bakery trays full of sold-out goodies? Perhaps you should consider some of the hottest trends in bakery production in order to make the most of your bakery business!
If you're looking to make good use of your bakery trays, these three trends are sure to help you out:
Flatbreads
One of the most popular breads that experiencing strong sales nowadays are dense, protein-packed flatbreads. They're also loved because of their high-fiber, low-carb qualities, making them the perfect option for health-conscious consumers.
Flatbreads may also contain and utilize other attributes such as authentic ingredients, bold flavours, gluten-free, and ancient grains are becoming more popular. Bakery trays of both small time and big time bakers are packed with these items.
Decorate-It-Yourself
While baking from scratch is a great idea, there's nothing more desirable than baking at home together with loved ones. This is why decorate-it-yourself cookies, cakes and other baked goods are selling more. Also called as take-and-bake products, they have been finding their way into bakeries across the country.
These treats are a time-saver for the holidays and emerge as star attractions for children's parties and gatherings. They provide consumers with an easy and fun reason to enhance their creativity and build loyalty to their favourite retail bakery!
Seasonal Specialties
Classic treats are a timeless favourite but consumers are looking for new twists. So grab the chance of showcasing your local and seasonal specialties in some of your bakery trays. From pumpkin pies and Halloween-inspired cookies for the fall season, to gingerbread and Christmas- inspired treats, offering these limited-time baked goods inspires anticipation and creates urgency that drives consumers back to your bakery to buy their usual favourite baked goods until the next season comes along.
At D & V Plastics, we offer high quality plastic baking trays for your bakery business. We understand the importance of having the right equipment and tools at your disposal, and what it means to the success of your business, which is why we take pride in providing you with top-quality trays and racks for your baking application.