Use These Three Methods to Ensure Your Baking Supplies Are Organised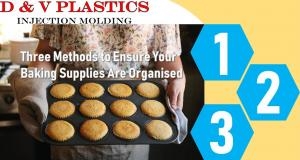 Keeping on top of the mess and staying organised, as well as learning the ropes to running your bakery can be hard to manage - especially if you're new to the business. There is never a shortage of baking tools, instruments, and machines that need to be arranged, let alone those miscellaneous items that always seems out of place.
However, as a Canadian bakery supplier, we've been in the business for a while and we're ready to pass along some wisdom we've picked up along the way.
Whether you are beginning to get your foot in the door of the industry or have been running your bakery for years, these techniques can help you ensure your baking supplies stay in the right places.
1) Hang Your Measuring Equipment
Baking is a science, and measurement tools are part and parcel of the trade; you're bound to have a plethora of scales, and spoons at your disposal, ready to be used in a moment's notice – especially for your business.
The best way to keep your head up managing all these paraphernalia is to, quite literally, hang them up! Places such as the inside of a cabinet door can work wonders as this stores them safely, while making full use of the space you have available at hand.
2) Baking Sheets and Trays Need to Be Filed
Whatever your bakery specialty is, from cookies to pastries, there's a high possibility you'll be stocked up with baking sheets, trays, and other Canadian bakery supplies crammed into your cabinet.
While horizontal arrangement is not too bad, it's recommended you shift your modality to a vertical alignment; this arrangement allows for custom purposed slats inside the cabinet so you can both see and get to the item you need in a fraction of the time, without having to worry about dropping anything above or below.
3) Make the Most out of Your Pegboard
You may have a pegboard dedicated to your checklists, notes, and other writings in your bakery. However, in the age of recycling, you need to think outside the box and apply multiple applications to your equipment - making the best out of your bakery.
Pegboards, Canadian bakery supplier or not, provide the opportunity to accommodate parchment papers, cookie cutters, scissors, and any other smaller based bakery goods for easy access that you may have previously had trouble arranging.
Tailor Your Organisation with Us
With our renowned hardened silicone trays at D&V Plastics, you can go that extra step further and tailor your organisation for bakery by ordering trays to the exact specifications, dimensions, colors, and branding that you need.
As a Canada bakery supply, we're pretty organised ourselves, with our operations running 24 hours a day, we're known across Toronto and the GTA for helping numerous clients successfully run their large scale bakeries. You don't have to wait around long, either – we get to work on your request quickly; our trained staff, and top of the range equipment allow us to get you the results you want, when you want them.
Get in touch with us and one of our experts will be glad to consult with you over your baking needs!