What it Takes to Become Trusted Suppliers in Toronto Bakery Supply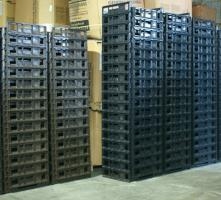 There are many reasons why plastic baking racks and baking trays have become so popular in Toronto's bakery supply. Not just that the product itself is proving the greatest convincer and paying for itself with its longevity, durability and customization options, the quick turnaround in ordering and getting quality products has been a major reason too.
Given that bakeries run tight deadlines and are used to contemporaneousness in their day to day operations, it is no surprise they appreciate the same responsiveness from their partners overseeing Toronto's bakery supply of baking racks.
In this, our latest article, we look at some aspects of plastic baking racks and trays and their manufacturers that have wowed bakers and become such a growing business in Toronto's bakery supply.
- Product, product, product – It doesn't matter if you give them away for free and hand deliver them personally, but a bad bakery tray will be ejected from Toronto's bakery supply before you can say finish saying this sentence. A sturdy product that improves baking is a must, and that's exactly what plastic trays have proven themselves to be.


- Custom design – Visit any chic area of town and you are sure to find a plethora of bakeries competing for attention. Custom therefore means distinctive and is something that is increasingly seen as a must-have. Logos, shapes, striking colours or themes: whatever it be, giving a memorable experience is crucial to enticing customers.


- Quick turnaround – When Toronto's bakery supply needs baking trays, it needs them now pronto. Delivering plastic baking trays and racks to bakeries needs an energetic team and quick turnaround. Which is why our manufacturing facilities run 24 hours a day. And that's also why we have on-demand delivery of our bakery supply equipment.


- Customer-centric service – Toronto's bakery supply has often been beset by an uncaring attitude towards the products used by bakeries. Our approach is fundamentally different. Being an agile, responsive outfit, we look to make sure that our customers are totally satisfied with their product.