What Supplies Do You Need for Your Bakery and Why?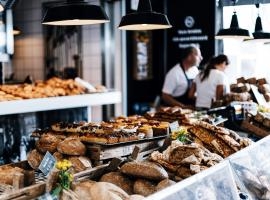 So you've always been passionate about baking and feel like it's time to make it out on your own. Starting a new business can be an exciting and nerve-racking experience. But setting yourself up for success is a key way to ensure it's more the former than the latter. Getting the details right the first time around like determining location, back-of-house equipment, and baking supplies are necessary in order to bring your business to life. Today we'll go over some of the necessary equipment and supplies for your bakery business to run smoothly.
Bakery Equipment
If you're starting your own bakery business, you're going to need proper equipment.
Ovens
· Needless to say, you're going to need a commercial oven that is capable of baking your products efficiently and effectively every time
· There are a number of ovens you should consider depending on what it is you intend to bake i.e. full-size convection oven, deck oven, proofing oven
· You'll also want to ensure you gave adequate bakery supplies like plastic baking trays, muffin pans, cooling racks, etc. that also serve to further streamline the baking process
Refrigeration
· Regardless of the size of your operation – large or small, you'll definitely need some form of refrigeration equipment to keep your products fresher for longer
Mixers
· Consistently using a small mixer probably won't cut it for baking at a commercial or business scale
· Investing in a commercial dough mixer that can stand the daily use of wear and tear is optimal for ensuring larger batches of baked goods
Bakery Supplies
Baking supplies serve to streamline the baking process and are a necessary part of any bakery business.
Plastic Baking Trays
· Consider plastic baking trays made of a hardened silicone, synthetic polymer to ensure heat-resistance, durability, zero stickiness, and zero rust
Cooling Racks
· Like baking trays, cooling racks should be durable enough to stand the test of time
· Cooling racks are used to place hot baked goods on straight from the oven – they allow air to flow under them serving to prevent potential condensation. This prevents sogginess and makes for a crisper final product
In sum, assessing which bakery supplies and equipment are needed (and budgeting accordingly) is an important factor when considering opening up and planning for a successful bakery business.