Why Bakery Trays are Crucial for a Bake Shop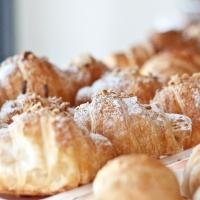 Bakery trays are designed for easy transport and storage of food items, such as muffins, cookies, and other baked goods fresh from the oven. They are lightweight and durable plastic trays, which help maintain the organization of food products without requiring a high amount of space in the bake shop. These containers are made of a plastic that is safe to use around food, and they commonly possess a shallow bottom for storing purposes and raised edges that allow them to be carried. A bakery tray is often chosen to transport food from one location to another, both within the facility and between the bake shop and the customer. When used as storage, it can keep the items safe for up to days at a time.
D & V Plastics Inc. specializes in the production and supply of bakery trays, and our team is ready to meet the needs of your business along many steps of the baking process.
Benefits
When it comes to trays of this type, an advantage is their stacking feature. They are made with nested grooves in order for them to be stacked on top of each other, providing increased room in a bake shop. These plastic trays are also perforated to give them a lighter weight than the average version composed of metal. This characteristic enables more airflow as well, letting the baked goods cool down in a timely manner. While a bakery tray is being used, another benefit of their design is easy access to the food products it carries. The ease at which they can be cleaned and their durable and long-lasting nature are further examples of why these containers are advantageous.
Browse our website and contact us today for more information about our bakery trays, and how D & V Plastics Inc. is prepared to support your business with the materials we manufacture.