Why You Should Invest in High-Quality Baking Accessories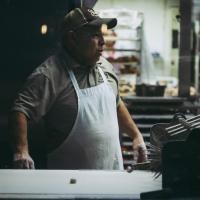 There is no denying the amount of work that goes into running a successful bakery operation. Taking the time to ensure that your team of workers and facility are equipped with the necessary tools and equipment to conduct day-to-day bakery operations is integral to business success. This includes taking the time to invest in durable, well-made baking racks, trays, and industrial-grade baking equipment to make certain that you are able to fulfil daily operational needs as seamlessly as possible.


In today's blog we'll discuss the benefits of choosing high-quality baking accessories for your bakery operation.
Durability
The number one reason why you should choose high-quality baking accessories such as baking trays, racks, and other equipment, is for their ability to withstand daily use. The largest benefit of durable bakery supplies is that they tend to have a longer useful life than their cheaper counterparts. This means you won't have to switch out your baking accessories on a regular basis, and you can rely on them to stand the test of time.
Brand Recognition
With so many bakery operations out there, competition can run high. But that shouldn't negate from the success of your own bakery operation. Emphasize what's unique about your bakery business by conveying your brand. From packaging to bakery supplies, conveying your brand through the products you put out and the equipment you use can bring a greater sense of brand cohesion and recognition.
Streamlined Operations
The last advantage of choosing high-quality bakery supplies and accessories is that they will effectively streamline your day-to-day operations. If you're currently using sub-par baking racks, baking trays, and other supplies to meet daily demands, you'll find that once you choose high-quality products, you'll get high quality results. More efficient and productive outcomes are expected when you use quality products that reduce the risk of operational hiccups along the way.
Are you in need of high-quality baking accessories for your bakery operation?
Look no further than D&V Plastics. We offer high-quality injection moulding services to produce top-tier baking racks and trays that are durable and customizable. For all your baking accessory needs, call on the team at D&V Plastics today! We'd be happy to help equip your bakery operation with the necessary supplies to ensure success.