Working More Efficiently in A Bakery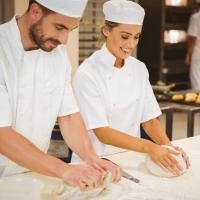 Bakeries are some of the hardest places to work considering the great skill and discipline that is needed from the workers. Not only do they have to be fast, they also need to be accurate. It takes a great amount of practice to be able to line baking racks quickly with products all evenly and perfectly spaced from one another.
Of course, bakeries are always looking to optimize their efficiency.
Being able to produce more means getting more product to fly off the shelves. Especially during peak seasons such as Christmas, bakeries could really benefit from making sure that everything in the bakery, including equipment, is up to standard and helping them work better.
You wouldn't want issues with your equipment to interrupt your workflow. Good baking racks, like the ones produced at D & V Plastics, are resistant to rust and stickiness. This means you can expect a smooth process and no unnecessary hiccups along the way.
In addition to that, there is also the possibility of hiring new staff. After all, not only does every station in a bakery need to be covered – during peak seasons, a bakery may need additional hands to keep things moving at a consistent pace.
If hiring additional staff is too much, there are some basic tips to keep in mind to optimize efficiency in a bakery. For instance, before the shift starts, make sure all your tools are gathered and accounted for. And then, make sure everything you need, including your ingredients, baking racks, rolling pins, and more, are all within reach.
It is also important to make things in the proper order. You should be ordering which items or parts of a finished product gets worked on first and by which station. Different stations can work on different components of the same product, or you can have different stations rotate jobs in chronological order. Either way, having a system is crucial to ensuring everyone is working at their most efficient.